Hecoclima is a new company in the HVAC world, established to become a real alternative among chillers and heat pumps manufacturers. With the headquarters in Umbria, the green heart of Italy, Hecoclima offers its products to both Italian and international market, through a way  to act, think and be always focused on the respect for the environment and the well-being of people.
Hecoclima has been established as a new reality of the Geoclima group, a company specialized in design and manufacture of special chillers, and it can count on values, ideas, know-how and experience gained in more than 20 year of presence in the HVAC field. On the strength of this experience, Hecoclima aims to create new opportunities and values through the supply of products and services and the client's satisfaction.
This collaboration with Geoclima culminated in the development of a new test center with a climate chamber that makes it possible to simulate the actual running and installation conditions of every unit. In this way, Hecoclima can ensure the best offer and the highest reliability.
Efficiency, performance and respect for the environment are the foundations of the Hecoclima offer.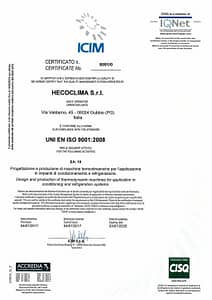 100% certified quality. The production of industrial machines requires design abilities and cutting-edge technological solutions, as well as a focus on total quality control. For this reason, we take the current regulations as a standard and commit to satisfying the strictest certification rules. Hecoclima is certified UNI EN ISO 9001:2008 for the quality of the management system of Hecoclima Srl.
All our production is tested under both standard working conditions and malfunction. Nothing can be left to chance and, in order to offer the client the highest quality, Hecoclima has a brand new test center with a climate chamber where we can certify the correct operation of every unit, by simulating real running conditions.
The Hecoclima R&D department is constantly dedicated to the search of new solutions suitable for providing a constant technological renewal of our machines. Quality, efficiency and reliability are the foundations of our engineering. The introduction of new technologies, concerning the components and their applications, enables us to offer a wide variety of solutions and to consider together with the clients which one best suits their requirements.
Our policy is to use the highest technology available and to optimise every single component of a system in order to maximise efficiency. This leads to essential benefits in terms of performance, efficiency and economical and energy savings.